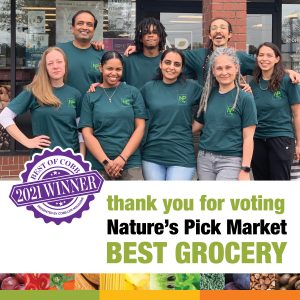 Thank you!!!
As we celebrated our 4 year anniversary, we were thrilled to share the news that we have been named Best Grocery in Cobb! When we originally came up with the idea for Nature's Pick Market, we knew what we were creating was needed. What we didn't know was how much we would be embraced by our community.
Thank you from the bottom of our hearts for your continued support! We look forward to seeing you soon!
To all of our valued customers:
Thank you for all of your support during these difficult times. We are committed to remaining a safe and reliable source of important groceries and supplement needs for our community.
We will continue to offer Curbside Pickup to anyone who needs it.  All you have to do is give us a call at 678-909-2084 with your shopping list, we are happy to pack up available groceries and provide you an approximate time to pick it up from the store. When you arrive we will deliver your order outside and can process payment without you leaving the car.
---
Nature's Pick Market, your neighborhood natural food store is providing essential elements for healthy living. Visit our physical store close to Marietta Square on Whitlock Ave in Marietta, GA. Browse a huge selection of Natural, Organic, Non-GMO, locally raised and produced food and groceries, and high quality supplements.
ONLINE STORE  COMING SOON!!